Tunde Aladeloba || Emmanuel Chukwunenye || 21-04-2022
The living room is almost the first point of entry in most homes. More than 90% of the houses built across the world have the living room as the first space that people access. Therefore, a lot of individuals are always looking for ways to brighten up their living rooms. Regardless of whether you are constantly receiving guests, or just you and your family, the living room should always have a bubbly atmosphere. Your living room is the place that welcomes you home after a hangout or stressful day at work and we guess it should have a great atmosphere.
In today's post, we look at five simple ways you can upgrade your living room without breaking the bank.
A Good Rug Will Make A Bold Statement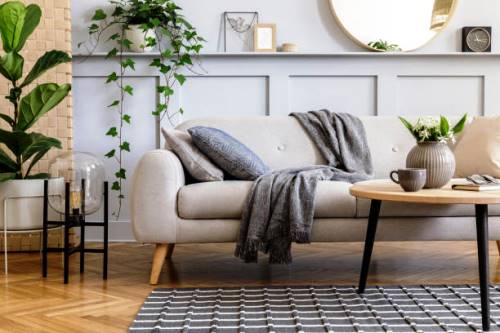 If you want to upgrade your living room without putting pressure on your account, then you should get a fine rug. A rug will lift the atmosphere of your living room, making it cozier. There are plenty of options to choose from when you want to put a rug in your living room. Jute rugs, sheepskin rugs, rag rugs or the Geometric Tassel Rug with an eye-catching pattern are rug types you can use in your living room. For a cozier option, you might like a shearling rug, as you won't even need flippers to practice hygge at home! And here is the good part of it, it's washable.
Invest in Some Green Plants
Plants add the most energy to every home, as they are easy to care for, and can be displayed in a variety of ways. Integrating green houseplants into your living room can be therapeutic and healthy for you. Plus, the quality of your home air can be improved with houseplants—a win-win! Succulents are another great low-maintenance option—just give them sunlight and a touch of water occasionally, and they will remain great.
Take away the Mess of Wire
The mass of wires that comes from behind your TV, should not be seen in this age. It's also not safe, as kids occasionally play around, and could get involved in accidents because of the wires. A cable box is a good start to organize those wires or a less expensive cord organizer. This way you can separate the wires, so it will be easy to identify the gadgets that are going to be connected. Your living room is not a studio or an entertainment center, so the mess of wires should be away from public view.
Brighten with Great Lightning
Lightning can brighten up any space, set a mood, and illuminate a color scheme. Your living room can appear bigger and more exciting when you install great lights there. LED bulbs, lamp shaded lightings are considered to improve the mood in your living room. Furthermore, lighting that can evenly distribute light to everywhere should be a priority, to keep shades away from the living room.
Improve With A throw Pillow
An artful throw pillow can add a pop of color and personality to even the drab best living room. Having patterns that match will add to the look of your living room, making the space appear pleasant. Purchasing pillow covers is another viable option, as it can be used to zip over pillows you already own. Pillow Covers will add a touch of texture to your soda, and as a bonus, they're soft to rest your head-on. Check out our throw pillow collection